Skip to main content
It looks like you're using Internet Explorer 11 or older. This website works best with modern browsers such as the latest versions of Chrome, Firefox, Safari, and Edge. If you continue with this browser, you may see unexpected results.
Featured LIS Databases
Library & Information Science Source

Why search here?
Developed by librarians from a merger of high-quality databases from EBSCO and H.W. Wilson, and including many unique sources that were never previously available, this database provides full-text coverage and high-quality indexing to help librarians and researchers to keep pace with the latest trends in a rapidly evolving field of library and information science.
What's included?
Containing English and foreign-language periodicals, journals, conference proceedings, pamphlets, library school theses and books, this database encompasses subjects such as librarianship, classification, cataloging, bibliometrics, online information retrieval and information management.

ERIC

Why search here?
ERIC is the largest database of scholarly and non-academic literature for the field of education.
What's included?
ERIC content dates back to 1966 and includes education-related documents, journal articles, program descriptions and evaluations, research reports and surveys, curriculum and teaching guides, and instructional materials.
Searching the Databases
Tips for Database Searching:
Use Boolean Operators to connect concepts
Use similar terms when searching a concept
Truncate when you can
Be prepared to search multiple times
Journals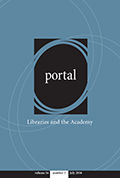 Trade and Academic Journals